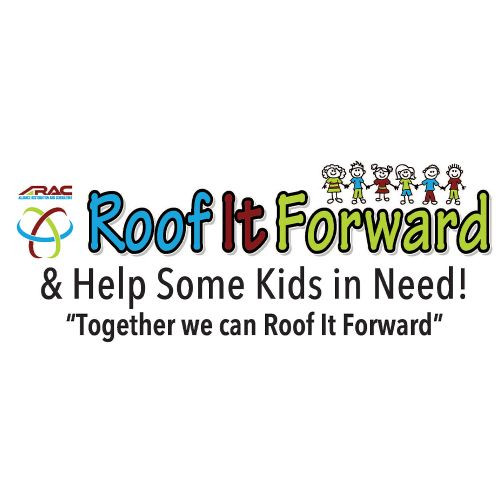 ARAC Roof It Forward
Business Profile
Categories: Roofing
ARAC Roof It Forward
Review by TrustDALE

:
5

/5
Service Area
Atlanta, Roswell, Alpharetta, Marietta, Smyrna, Dunwoody, Peachtree Corners, Gainesville, Tucker, Kennesaw, Douglasville, Woodstock, Lawrenceville, Duluth, Chamblee, Stockbridge, Canton, Carrollton ...show more
Atlanta, Roswell, Alpharetta, Marietta, Smyrna, Dunwoody, Peachtree Corners, Gainesville, Tucker, Kennesaw, Douglasville, Woodstock, Lawrenceville, Duluth, Chamblee, Stockbridge, Canton, Carrollton, Mcdonough, Decatur, Acworth, Cartersville, Snellville, Suwanee, Norcross, Fairburn, Villa Rica, Powder Springs, Buford, Dallas, Clarkston, Lilburn, Holly Springs, Hampton, Flowery Branch, Austell, Dahlonega, Locust Grove, Hapeville, Stone Mountain, Cumming, Dacula, Adairsville, Palmetto, Temple, Grayson, Oakwood, Hiram, Jasper, Avondale Estates, Lula, Dawsonville, Bowdon, Lithonia, Ball Ground, Mount Zion, Ellijay, Emerson, Blue Ridge, Nelson, Clermont, Waleska, Pine Lake, White, Kingston, Blairsville, Whitesburg, East Ellijay, Morganton, Gillsville, Roopville, Taylorsville, Talking Rock, Springville, Woodbury, Woodland Mills, Woodlawn, Winston, Winfield, Winchester, Springfield, Wilder, Bradyville, Williston, Blountville, Williamsport, Wildersville, Whitwell, Whitleyville, Whiteville, Whiteside, Stanton, Whitesburg, Whites Creek, Wynnburg, Tellico Plains, Spring Hill, Bruceton, Burns, Allardt, Burlison, Bumpus Mills, South Fulton, Bulls Gap, South Pittsburg, Southside, Buffalo Valley, Buena Vista, Buchanan, Brush Creek, Brunswick, Brownsville, Yorkville, Sparta, Alexandria, Bristol, Brighton, Briceville, Brentwood, Speedwell, East Point, Spencer, Spring City, Bloomington Springs, White Pine, Spring Creek, Yuma, Bradford, Braden, White House, Tracy City, Union City, Union City, Unicoi, Tallassee, Turtletown, Tullahoma, Tate, Troy, Trimble, Trezevant, Trenton, Trade, Townsend, Vanleer, Tazewell, Bon Aqua, Bogota, Toone, Bolivar, Tiptonville, Tipton, Tigrett, Thorn Hill, Thompsons Station, Tennessee Ridge, Ten Mile, Telford, Unionville, Viola, Stantonville, Washburn, White Bluff, Westport, Westpoint, Westmoreland, Stewart, Alcoa, Waynesboro, Waverly, Watertown, Watauga, Strawberry Plains, Bowdon Junction, Suches, Talbott, Sugar Tree, Wartrace, Bluff City, Summertown, Summitville, Sunbright, Surgoinsville, Wartburg, Walling, Walland, Sweetwater, Taft, Butler, Vonore, Georgetown, Bybee, Eaton, Dyer, Dyersburg, Eads, Eagan, Eagleville, Apison, Eidson, Dunlap, Elgin, Elizabethton, Elkton, Ellendale, Ellenwood, Elmwood, Antioch, Dukedom, Englewood, Dickson, Decherd, Deer Lodge, Del Rio, Delano, Dellrose, Denmark, Dixon Springs, Duff, Dover, Dowelltown, Doyle, Dresden, Drummonds, Duck River, Ducktown, Elora, Enville, Decatur, Friendsville, Fosterville, Frankewing, Arnold A F B, Franklin, Arrington, Friendship, Fruitvale, Adams, Gadsden, Gainesboro, Gallatin, Gallaway, Arthur, Gates, Arlington, Flintville, Epworth, Eva, Erin, Erwin, Estill Springs, Ethridge, Etowah, Ardmore, Evensville, Flag Pond, Fairview, Fall Branch, Farner, Fayetteville, Finger, Finley, Five Points, Decaturville, Dayton, Byrdstown, Chuckey, Cherry Log, Altamont, Chestnut Mound, Chestnut Mountain, Chewalla, Christiana, Church Hill, Charlotte, Clairfield, Clarkdale, Clarkrange, Clarksburg, Clarksville, Cleveland, Chattanooga, Charleston, Clinton, Caryville, Calhoun, Camden, Campaign, Allons, Allred, Carthage, Cassville, Chapmansboro, Castalian Springs, Cedar Grove, Cedar Hill, Celina, Centerville, Somerville, Chapel Hill, Clifton, Coalfield, Andersonville, Culleoka, Crab Orchard, Crawford, Crockett Mills, Cross Plains, Crossville, Crump, Cumberland City, Covington, Cumberland Furnace, Cumberland Gap, Cunningham, Cypress Inn, Dandridge, Darden, Cowan, Counce, Coalmont, Como, Coker Creek, College Grove, Collegedale, Collierville, Collinwood, Columbia, Conasauga, Cottontown, Cookeville, Copperhill, Cordova, Cornersville, Corryton, Cosby, Cottage Grove, Alpine, Sharps Chapel, Soddy Daisy, Lobelville, Liberty, Limestone, Afton, Linden, Lithia Springs, Livingston, Lone Mountain, Lewisburg, Lookout Mountain, Loretto, Loudon, Louisville, Lowland, Lupton City, Luray, Lexington, Leoma, Lutts, Lancaster, La Follette, La Grange, La Vergne, Laconia, Lafayette, Lake City, Lancing, Lenox, Lascassas, Laurel Bloomery, Lavinia, Lawrenceburg, Lebanon, Lebanon, Lenoir City, Luttrell, Lyles, Kodak, Mercer, Mc Kenzie, Mc Lemoresville, Mcminnville, Medina, Medon, Memphis, Michie, Mc Donald, Middleton, Midway, Bean Station, Milan, Milledgeville, Milligan College, Millington, Mc Ewen, Baxter, Lynchburg, Mansfield, Lynnville, Mableton, Macon, Madison, Madisonville, Manchester, Marble Hill, Mc Caysville, Martin, Maryville, Bath Springs, Mascot, Mason, Maury City, Maynardville, Kyles Ford, Knoxville, Mineral Bluff, Harriman, Guild, Guys, Halls, Hampshire, Hampton, Atoka, Harrison, Athens, Harrogate, Hartford, Hartsville, Atwood, Heiskell, Helenwood, Henderson, Gruetli Laager, Grimsley, Henning, Goodspring, Gibson, Gladeville, Gleason, Adamsville, Ashland City, Goodlettsville, Gordonsville, Greenfield, Grand Junction, Grandview, Granville, Graysville, Greenback, Greenbrier, Greeneville, Hendersonville, Henry, Bakewell, Jellico, Jacks Creek, Jacksboro, Jackson, Jamestown, Jasper, Jefferson City, Joelton, Indian Mound, Johnson City, Jonesborough, Kelso, Kenton, Kingsport, Kingston, Kingston Springs, Iron City, Idlewild, Hermitage, Holladay, Auburntown, Hickman, Hickory Valley, Hilham, Hillsboro, Hixson, Hohenwald, Hollow Rock, Hurricane Mills, Hornbeak, Hornsby, Humboldt, Huntingdon, Huntland, Huntsville, Huron, Milton, Minor Hill, Sneedville, Ripley, Reliance, Riceville, Rickman, Riddleton, Ridgely, Ridgetop, Rives, Red Oak, Roan Mountain, Robbins, Big Rock, Rock Island, Big Sandy, Rockford, Rockvale, Redan, Red Boiling Springs, Rogersville, Pruden, Pocahontas, Portland, Powder Springs, Powell, Primm Springs, Prospect, Pulaski, Reagan, Bethel Springs, Puryear, Quebeck, Bethpage, Ramer, Alamo, Readyville, Rockwood, Rossville, Pleasant Shade, Sherwood, Seymour, Shady Valley, Sharon, Germantown, Shawanee, Shelbyville, Shiloh, Sevierville, Signal Mountain, Silerton, Silver Point, Slayden, Smartt, Smithville, Smyrna, Sewanee, Sequatchie, Rugby, Saltillo, Russellville, Rutherford, Rutledge, Rydal, Birchwood, Saint Joseph, Sale Creek, Samburg, Blaine, Santa Fe, Sardis, Saulsbury, Savannah, Scottdale, Scotts Hill, Selmer, Pleasant View, Pleasant Hill, Mitchellville, New Johnsonville, Murfreesboro, Murrayville, Beechgrove, Beersheba Springs, Nashville, Belfast, New Market, Mulberry, Bell Buckle, New Tazewell, Newbern, Newcomb, Newport, Niota, Nolensville, Munford, Beech Bluff, Normandy, Morrison, Mohawk, Monroe, Monteagle, Monterey, Mooresburg, Morris Chapel, Morristown, Mountain Home, Moscow, Mosheim, Moss, Mount Carmel, Mount Juliet, Mount Pleasant, Mountain City, Norene, Norris, Pioneer, Benton, Palmyra, Paris, Parrottsville, Parsons, Pegram, Pelham, Petersburg, Palmer, Petros, Philadelphia, Pickwick Dam, Pigeon Forge, Pikeville, Piney Flats, Pinson, Palmersville, Pall Mall, North Metro, Ocoee, Nunnelly, Bells, Oak Ridge, Oakdale, Oakfield, Oakland, Obion, Old Fort, Orlinda, Old Hickory, Olivehill, Oliver Springs, Oneida, Only, Ooltewah, Belvidere, Gatlinburg
Office Location(s)
296 Bell Park Dr.
Woodstock GA, 30188
Products & Services
Residential and Commercial new roof installations, re-roofing, roof repairs
Website:
http://www.roofitforward.com
Wait! Call this number to automatically qualify your purchase for the TrustDALE $10,000 Make It Right Guarantee!
TrustDALE Review: ARAC Roof It Forward
About
ARAC Roof It Forward is a very unique commercial and residential contractor. Not just because of the quality of their work and the character of their people, but because of their mission. ARAC exists to honor God through giving. They've made a commitment to give back to the community a portion of every dollar that comes into the company through partnerships with local charities and other organizations that make it their mission to love and help others. When people decide to hire ARAC Roof It Forward, their money goes further than just getting a quality job… They ROOF IT FORWARD!
Price
Whether the job is funded by an insurance company or directly by the customer, ARAC Roof It Forward offers competitive pricing while adhering to the highest standards of quality in the industry. Plus, all jobs, big or small, come with a full guarantee and warranty to ensure that the job is done right, on time, and to your complete satisfaction. If you're interested in how much a new project might cost, or want to know the scope of damage left by a storm, an ARAC expert will provide you with a free video inspection that documents the scope of your needed repair along with a written estimate to get the job done. And don't forget about their "ROOF IT FORWARD" program, benefiting children's healthcare and organizations supporting children with cancer.
Quality
ARAC Roof It Forward offers a full range of roofing restoration and renovation services including new roof installations, re-roofing, and roof repairs. With partnerships with the best renovation materials manufacturers in the country, you are sure to find the exact fit for your home or business with the best warranties in the industry. You can always expect quality results, courteous workers and a clean worksite. ARAC Roof It Forward has thousands of happy customers because they aren't satisfied until their customers are. Go ahead and look at their online reviews to see exactly why they are TrustDALE certified!
Service
ARAC Roof It Forward's goal is to become the only contractor you ever have to call, and the only contractor you'd be willing to refer. They know that to reach this goal, they have to execute your project as quickly and painlessly as possible so you can move on with your life. They look forward to getting your property back to better than new condition as soon as possible. Because they understand that your home is your biggest investment, they approach every job like your home is their own. They strive to uphold the values of quality, responsibility, and integrity that their customers deserve. With a record of thousands of satisfied customers, you can be assured of quality results, courteous workers and a clean worksite. ARAC Roof It Forward's priority is to make sure you know that they are your absolute best option for a contractor for years to come!
Products & Services: Residential and Commercial new roof installations, re-roofing, roof repairs